You may have noticed that when taking pictures at a distance, you can see through the lens and sometimes see people walking in front of you or cars passing by, which can be very annoying when taking pictures of your children playing outside. Or maybe you are trying to take photos of a beautiful landscape, and there are power lines, telephone poles, or other objects that distract from the beauty of your subject matter.
You can remove these unwanted objects easily using a professional and powerful app called "bgeraser," a free app to clean up pictures with artificial intelligence in seconds. It helps you get a perfect picture while saving time and money. This article will walk you through this online photo cleaner app.
What Can Bgeraser Do for You?
Bgeraser is a free, automated photo-cleanup tool that makes your photos look their best so you can share them with anyone and anywhere. The web app allows you to clean up pictures by removing unwanted objects, backgrounds, or watermarks.
This photo cleaner app allows you to remove objects from your photos by selecting the area you want to cut out. The fast processing speed and the simple operations make Bgeraser ideal for improving photo quality.
How Does Bgeraser Work?
Bgeraser is a free online software to clean up pictures. The app's concept is simple: you upload a picture to the platform. Then the app uses AI to identify what's in the frame and offers easy tools to select the unwanted elements. You follow the tool's instructions to clean up the picture in several seconds.
If you are happy with the outcome, download it for free. If unsatisfied with the processed result, reset the picture and choose unwanted elements for cleaning up again. During the process, you can use the brush tool Bgeraser offers to select the element accurately.
How to Clean up Pictures Using Bgeraser
Bgeraser provides three options for you to clean up pictures: erase image bg, remove objects using Magic Eraser, and auto remove watermark. Among these functions, object removal is the most important one. Here, we will take a product picture as an example to show you how to use Bgeraser to clean up pictures.
Below is a picture of makeup tools. Suppose we want to remove the lipstick and the mascara from the image. How do we do it?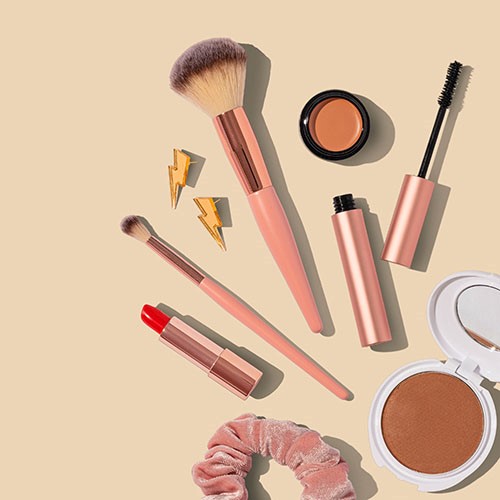 Let's see how we achieve the goals with Bgeraser:
First, go to Bgeraser's website and choose the "Magic Eraser" function from the homepage.
Then, upload this image from the computer. Once the image is ready, there will be a pop-up window where you can adjust the brush size and width. Drag the slider left and right to adjust the value size, which determines the range of objects selected and the intensity of object removal.
Third, use the brush tool to select the object you want to remove. Ensure that the object area is completely covered.
Next, click the "erase" button and wait for 5-10 seconds before removing the selected object.
Finally, you can preview the results and decide whether to download the final image.
See before and after effect below: 
Why Use Bgeraser to Clean UP Pictures?
Cleaning a photo is a great way to make it look its best. Bgeraser makes this task more straightforward than ever. If you are looking for an ideal tool to clean up pics online, why not try Bgeraser?
Clean up pics automatically
Driven by AI techniques, Bgeraser can automatically remove objects from a photo. It lets you make your perfect business cards, flyers, and social media ads in simple steps. This remover app doesn't require editing tips, so it is easy to use for anyone.
Promise a Stable Workflow
Bgeraser can promise a stable workflow when it comes to picture cleaning. The application has been tried and tested many times before its final launch. It can work well with any photo, such as a drawing, a magazine cover, a portrait, and a product photo. According to the current reviews from thousands of its users, Bgeraser always works fast and never crashes. If you want to create professional graphics and images in a short time, Bgeraser can be a good helper, no doubt.
Offer Free Service Forever
Using Bgeraser to optimize your images can be a great way to save money and time. This application offers free service all the time. With it, you can remove unwanted objects and erase imperfect backgrounds in seconds. It is the most convenient app for cleaning pictures because it is available online. You can edit the image and get the best outcome without logging into an account.
Output Stunning Results
With Bgeraser, you can create high-quality graphics in minutes! Whether you need new graphics for your Instagram account or want to share images on Facebook or Twitter, Canva has the tool necessary to help you get started quickly. Currently, Bgeraser allows you to upload jpg and png images for optimization. Once the image is cleaned up, you can also save the outcome as HD files.
What Kind of Things can be Cleaned up from an Image?
Bgeraser allows you to remove people, objects, or backgrounds from photos. You can also remove unwanted objects from photos.
Clean up your images by removing anything that you don't want in your photo. Perhaps you have some unappealing background elements that need to be removed from your image. Maybe some distracting elements ruin the aesthetics of your image? Or maybe there's something in the picture that doesn't belong there at all? No problem! Use Bgeraser to remove these things from photos and graphics effortlessly!
Why Clean up an Image?
Cleanup is an excellent process for removing unwanted objects from your photos. For example, you have taken a beautiful selfie, but there were people behind you. Or there was something blurry, so you want to get rid of it. In these cases, you can use tools like bgeraser to remove unwanted objects and make the photo clear.
Besides, If you are running an e-commerce website with a high demand for image quality, cleanup software can help your product photos shine by removing inappropriate backgrounds or text. All in all, image cleaning might be the easiest way to improve the quality of your images.
Conclusion
If you are looking for an easy way to clean up photos to improve the photo's quality, then Bgeraser is the right app! Its simple and easy-to-use interface allows even a beginner to get started. It can delete objects from photos by using advanced object-removal technology. Use Bgeraser altogether to remove objects from photos in just one click and create high-quality results for many types of images: landscapes, portraits, animals, close-ups, and more!